Welcome to The Leece Museum.
The Leece Museum is devoted to objects, photographs and documents specifically relating to Peel in the Isle of Man.
Our archive of unique documents and photographs is of particular interest to those who are researching family history, as well as to visitors with a general interest in the life of a busy Manx fishing port in days gone by.
The Leece Museum was established in 1984 by Eddie Leece, a retired headmaster of Peel Clothworkers School, and former Town Commissioner, and Frank Quayle who served as the museum's curator for its first 15 years.
In 2015 we created a permanent exhibition of TT & MGP winning racing machines, vintage, and off-road bikes. All housed in the Black Hole Prison cell where wrong doers we incarcerated in days gone by. There are still some reminders of those days in the cell, chains on the walls, when prison was for the simplest of offence.
Summer
(last Sun in June to first Sun in Sept)
Tue-Sat:
Sun:
Mon:
10am – 4pm
12pm – 4pm
closed
Winter
(first Tues in Sept to last Sat in June)
Tue-Sat:
10am – 4pm
These, and many other questions, can be answered by our knowledgeable curator and his colleagues.
The dedicated staff of the museum bring a wealth of experience and local knowledge from which visitors can benefit.
In addition, due to our close relationship with other research groups, we can usually assist in research and educational projects covering a wide variety of themes from natural history to industrial archaeology and architecture.
In our small Research Centre we have up to date technology to facilitate archival research and (with permission) to copy photos and documents.
Themed walks exploring the varied history of Peel's industry, natural history and architecture in the company of noted local historians can be booked for groups by prior arrangement.
Informal talks and discussions on any aspect of Peel history can also be pre-booked for groups by contacting the Leece Museum or Peel Town Hall.
Visitors can also buy photographs, gifts and souvenirs, or an exclusive Leece Museum calendar in our Museum shop.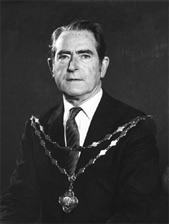 Founder of the Leece Museum, the late Eddie Leece.
Roy Baker is the Leece Museum's long-standing curator with detailed knowledge of all things related to Peel.
The Leece Museum Trust is a charitable organisation formed in July 2006. Its duties are to promote the operation and management of the Museum, to display the collections, and to raise funds for the acquisition of new artefacts relating to Peel and the west.