Music and Theatre… Library… Swimming… Camping… Tourist Info
The Island's only Arts and Community Centre run entirely by volunteers.
An excellent local venue for Theatrical Productions, Corporate Presentations, Lectures, Exhibitions, Discussion Groups and Workshops.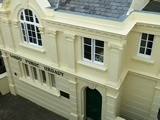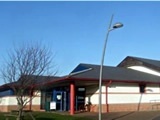 Derby Road, Peel
tel +44 (0)1624 842525
link
Peel campsite is a large well-equipped site with flat pitchesfor tents, some with electric hook-ups and plentiful hardstanding for motorhomes and campervans.
Tourist information is available at the Leece Museum, East Quay, and the Town Hall on Derby Road (weekdays only)
Manx Whale and Dolphin Watch Visitor Centre
Discover the species of whale, dolphin, porpoise and other marine life found around the Isle of Man. Chat to our team of marine mammal scientists and educators and find out what Manx Whale and Dolphin Watch are doing to monitor and conserve these unique species. Learn the hints and tips for spotting these incredible animals and good places to see them around the Manx coast. Our young scientist's area offers games, puzzles and colouring-in, as well as an interesting collection of marine mammal bones. Tea and coffee is available for a donation and a library of fascinating books are available to browse.
Web: mwdw.net
Peel Police Station
Derby Road
Peel
Telephone: 01624 842208
Fax: 01624 842365
Emergency: 999
The enquiry desk is open from 9am to 5pm Monday to Friday and other times dependent on patrol requirements. If staff cannot take your call you will be transferred to headquarters where a message can be left.
Web: Western Police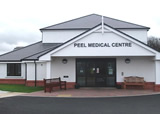 Peel Medical Centre is situated in the heart of Peel, serving the community in the West of the island. We have a number of male and female partners, as well as training doctors, nurses and Healthcare Assistants to provide a wide range of care for you. This website is designed to give you easy access to that care.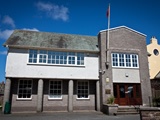 Responsibilities:
Housing Peel has 334 local authority dwellings
Street lighting and street cleaning
Refuse collection
Environmental health in conjunction the Department of Local Government and the Environment
Playgrounds, parks and other leisure facilities
Tourist Information Centre at the Town Hall and the Leece Museum
Public conveniences
Car Parks
The Ward Library and Leece Museum
How to Contact Us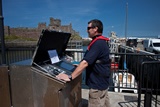 Peel Harbour Marina and Office
East Quay
Peel IM5 1AR
Telephone:+44 1624 842338, mobile: +44 7624 495036
Email: enquiries.harboursdoi@gov.im