We think Peel is the best place to live on the Isle of Man, and a great place to stay for your holiday for all the same reasons.
Peel still has the feel of a small fishing town, and it has an active fishing industry. The world famous Manx kippers are smoked in Peel. We're quite proud of our ancient castle, a glorious sandy beach, and a quieter beach, Fenella, nestling between the Castle and Peel Hill.
Peel Hill is a short, walk, and there are fantastic views of Peel Bay and the town even if you don't make it to the top. Those who reach Corrin's Folly are rewarded with views for miles along the west coast in both directions, and through the central valley to the East.
Peel is renowned for its amazing sunsets(just look above!). Take a walk around the castle perimeter to view the sunset and views to Scotland and the Mountains of Mourne in Northern Ireland. When the fishing boats return you will often find seals come to great them, and if you are lucky you might catch sight of basking sharks.
Beyond the natural attractions, there is plenty to do in Peel, with three museums, and a modern swimming pool for a rainy day, and a busy night life with good pubs and restaurants, and an active arts centre with regular concerts and theatre performances.
With good transport links and a central location, Peel is a great place from which to explore the rest of the Island (though you might not want to leave!).
What are you waiting for?
Find out more about Peel at:
Peel Online
Self-catering accommodation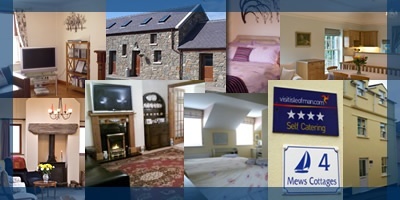 Bed & Breakfast/Guesthouses