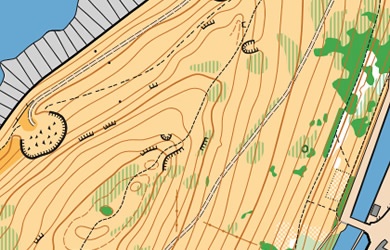 Peel Hill Permanent Course
You will be able to test your navigation skills and terrain running on the 1:10000 map of Peel Hill. Never strayed off the path before? Here's your chance. You'll be tested by some detailed vegetation features and rocky outcrops. This area is at its best in the springtime before the bracken grows too high, but the permanent courses and events will avoid these areas.
To the north of the Hill, Peel Castle has also been mapped and may be included in some events subject to the necessary permissions.
To the south of the area, Knockaloe Beg Farm has been added to the map. Please contact the Farm if you'd like to orienteer on this area.
Click on the links in the table to download and print the course files. You will need the map file and the descriptions file to run the course. Afterwards you can check you ran the course correctly by downloading the answers file.
From time to time Peel Town Commissioners may close parts of the area to public access, which may not be marked on the map. Please observe any footpath closure signs, and contact the Town Hall if in doubt.