Ice cream parlours in Peel
This list is provided by Peel Online as a service to tourists and locals, and does not indicate endorsement of any specific establishment by Peel Town Commissioners.
If you see any information here that is incorrect, please let us know. Many thanks for your help!
Davison's Ice Cream Parlour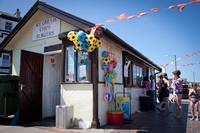 Shore Road
IM5 1AH
Tel: 412810
Web: Facebook